After reading my nutella posts, a colleague of mine told me about his experience with unsalted rice cakes (well-known for the flatline effect on your taste). He suggested Nutella is good enough to give a sense even to this ailment. Actually, I learned the meaning of "eating cardboard" after the first bite of my first rice cake (w/out nutella).
Needless to say, I have to try it myself.
1. Get a pack of unsalted rice cakes
2. Get a Nutella jar. The more, the better. Here we have a family-size one.
3. Extract a cake from the pack.
4. Spread Nutella on cake. A fairly good amount, please.
5. Have it.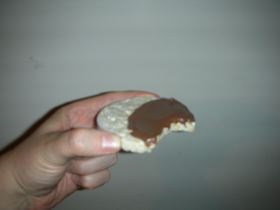 That's true: even the filthiest rice cake becomes very good with the reasonable amount of Nutella; and dietetically, due to the
EPS
structure, the rice cakes have very few calories. (Thank you, MArco!)